Homilies of Cycle B
Ash Wednesday
Readings:- Joel 2:12-18; 2 Cor 5:20-6:2; Mt 6:1-6, 16-18
Bro. Arun Prakash Menezes (MPC)
---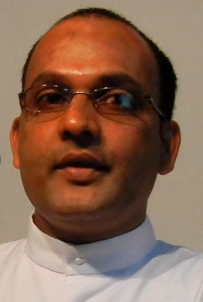 "You are dust, and to dust you shall return" (Gen 3:19)
Ash Wednesday marks the beginning of a new liturgical season that calls us to be new beings. It is a time of renewal, a time of immense grace, an invitation to change our old ways of living. It is the space to change ourselves that leads us to the covenantal relationship, a relationship that will help us to experience his faithful love that is unceasing. Salvation of the humanity was his primary concern while he walked the path to Calvary.
"All are from the dust, and all turn to dust again" (Eccl 3:20). On Ash Wednesday ashes are imposed on our forehead. It reminds us of our fragile nature. We are all temporary in this world, journeying towards God. It also helps us to humble and submit ourselves to the will of the Father who is the beginning and end of our life.
In the book of prophet Joel, the Lord says, yet even now return to me with all your heart, with fasting, weeping and mourning, rend your hearts and not the material goods, I am God who is gracious, merciful, slow to anger and abounding in steadfast love, relents from punishment. This is how our God is, the God who is compassionate, the God who becomes one with his people, who feels their suffering. He is the God who calls us back to return to him even now. God is waiting to embrace us like the prodigal sons and daughters. He is the one who is abounding in love and does not wish anyone to be lost from the promise which is eternal life. He asks us to rend our hearts to him so that he can dwell.
The Church helps us to make this season meaningful by almsgiving, fasting and praying. These three things should be on our agenda during the Lenten season.
Prayer is the way in which we can talk to Jesus. We can tell him what we want to be in this season. It is the way by which we can develop our friendship with him. It will also help us to share everything with him without any hesitation including our happiness and sorrows. It is the way to go closer to God so that he can become our intimate friend. When we pray with the sincerity of our heart he will answer our prayers. So my dear brothers and sisters during this season let us make an effort to participate in the mass, adoration, and Way of the Cross. Let us develop and increase our taste for family prayers such as rosary and so on. It will help us to experience God who within us.
Fasting is also one of the ways to experience God. It helps us to participate in the suffering of others, to be generous, to be his body by becoming one with the poor. St. Augustine said that fasting and almsgiving are the two wings that help our prayer fly up to heaven. Small sacrifices such as giving up bad habits like drinking alcohol, smoking, intake of drugs, or giving up what we like the most such as meat and so on will definitely help us in our search of God. Let us also try to abstain from using bad words that will hurt others' feelings.
Almsgiving is the way by which we can share our things with others. Mother Theresa said helping hands are better than praying lips. It is also the way by which we can become his witnesses. The more we give the more we receive that will increase our joy. Jesus himself was a man of prayer and fasting. He was very charitable and shared whatever he had, even to the point of sacrificing his life on the cross. My dear brethren let us practice these things with true joy of our hearts and not just as a duty.
The Church has placed forty days before us in the season of Lent. Let it help us to be people who are single minded about what we want to be. Let us make a firm decision to change what needs to be changed or the change that we want to see in ourselves so that we may experience the true joy of Easter