Life and Martyrdom of Devasahayam Pillai
Fr. George Mary Claret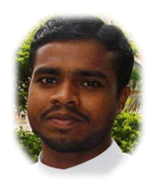 The Servant of God was born on the 23rsd of April 1712 at Nattalam in the present district of Kanyakumari, Tamil Nadu, India. He belonged to the Nair caste. "Pillai" was a popular appellation referring to his high caste and social position. A good person by nature and well educated, he started his career as a soldier. Then he served in the temple and worked as a palace official in the king's treasury. Neelakandan pillai married Bhargaviammal of his own Nair caste.


Conversion and Baptism:
While performing his duties as a palace official, he came in contact with a catholic officer, Eustachius Benedictus De Lannoy, a Dutch military officer, arrested by king Marthandavarma after the Dutch were defeated at war at the port of Colachel in 1741.

At a particular stage of their relationship Neelakandan Pillai was found to be extremely unhappy and saddened. When De Lannoy enquired about the reasons for his sadness he narrated a series of tragedies that had overtaken his family.

De Lannoy narrated to him the Old Testament story of Job and demonstrated how God tested the faith of the man through sufferings. Finding De Lannoy's explanation reasonable, Neelakandan Pillai expressed his desire to become a Christian. De Lannoy sent him to Vadakkankulam with a letter to Fr. Giovanni Baptista Buttari requesting him to baptize Neelakandan.

Fearing that Baptism would spell suffering and persecution, Fr. Buttari hesitated for some time to baptize Nilakandan. Finally, moved by the persistence of Neelakanda Pillai he baptized him at Vadakankulam in May 14th 1745. At baptism the Servant of God was given the name Devasahaym (Lazarus) which means "God has helped".


Life after Baptism:
Having joined the Catholic community, Devasahayam himself started exhorting others to receive Baptism and even converted some to Christian faith, one of them being his own wife who took the name "Gnanapu" which is a Tamil rendering of "Theresa".

In his personal life, the neophyte Devasahayam Pillai mixed and mingled with people of all status and castes. Because of his newly found faith he disregarded caste distinction, threw away the symbols of his "high" caste, ate and lived with people of "low" birth and came to the palace office as a "polluted" person. Noticing the marked changes in Devasahayam because of his Christian life, the high caste people accused him of the crime of betrayal and contempt of religious practices and of insult of gods, of the Brahmins and the royal throne.


Persecuted for faith:
The King, having been incited against Christians by the Brahmins, arrested Devasahaym on 23 Feb. 1749 and put him in a very narrow prison. Soon condemned to death by the king, he was tortured in several ways. He was paraded to many towns and villages, seated facing backwards on a buffalo, garlanded with Erukku flowers as a symbol of shame.

He was brought to a small place called Puliurkurichy, where overcome by thirst, he struck a rock with his elbow. Immediately, it is said that water flowed from the rock. This rock continues to give water even today and people visit this rock in large numbers.

He was brought to Peruvilai and detained there for about 7 months tied to a neem tree. It is there that Devasahayam became friendly with the soldiers and was helped to meet the Catholic priests. He received Holy Communion from these priests.

From Peruvilai he was taken to the prison at Aralvaimozhi where the condemned criminals were sent for death by the king. It was on the border between the kingdom of Madurai and Travancore.


Killed for Faith:
From the prison at Aralvaimozhi he was taken to the place of his execution. He had to be killed quickly and secretly because Catholics started visiting the Servant of God in large numbers. The Government officials kept the place and the date of his execution secret for fear of popular unrest. Finally at the midnight of January 14, 1752 they took him to the place of execution. As he lay totally exhausted and was unable to walk he was carried to the nearby hill called Kattadimalai. There he knelt and prayed intensely. Then he was shot dead by the soldiers.


Burial:
His body was thrown in the forest to be eaten by wild animals. His mortal remains were discovered by the Christians and buried in front of the main altar in the most important church of St. Francis Xavier, which is the present Cathedral of the Diocese of Kottar. At the news of his martyrdom, the bishop of Cochin, Msgr. Clemens Jose Colaco Leitao had Te Deum sung in all the Churches of the Diocese in thanksgiving. While lay persons are not usually buried within a church, it is significant that the servant of God lies buried in a most revered church, a fact that attests to the regard that people had towards his sanctity and greatness of his martyrdom.