Lent – A Time to Gather Fruits
Fr. Francis Scaria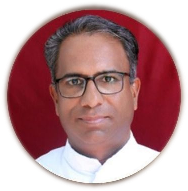 I remember a day in my childhood when a Hindu friend of mine took me to his house and showed me a mango tree. He told me that although that mango tree had grown tall and big, it had not flowered or given fruit until the previous year. He then showed me a few nails that his father had struck into the tree which, according to him, resulted in flowering for the first time. As a little boy, I wondered how it could be believed that a few nails that are struck in to the tree can make the tree flower! As I went home within me I pitied my friend who had such a superstitious belief.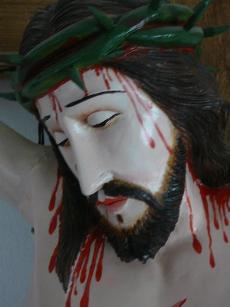 In the season of Lent, we intently look at a tree on which three nails are struck and it really flowered bringing salvation to the whole world. A time of contemplation on the mystery of the tree with nails brought me an awareness of human beings crying out in their agony due to the nails that pierce them. The Scripture says, "Hard work was created for everyone and a heavy yoke is laid on the children of Adam, from the day they come forth from their mother's womb until the day they return to the mother of all the living". (Sir 40:1) Humans face a lot of pain and suffering all through life. Sometimes we look at those nails and plunge into self-pity.
The nail pierced the tree only after it pierced the hands of the Son of Man. The tree probably felt elevated even in the midst of excruciating suffering that it had been fortunate to be pierced with the very same nails that pierced the hands of the Son of God. Further, the nail has bound the tree to the Son of God. This makes the tree forget the suffering and admire the Son of God brought closer than ever. Acts 5:41 says, "As they (Apostles) left the council, they rejoiced that they were considered worthy to suffer dishonour for the sake of the name (of Jesus)".
Suffering is a great Christian mystery. In Jn 15:1 Jesus says, "I am the vine and my Father is the vine-grower". He then goes on to say, "He removes every branch in me that bears no fruit. Every branch that bears fruit he prunes to make it bear more fruit"(Jn 15:2). Good branches have to submit themselves to pruning, knowing well that it is through pruning that the branches become more fruitful. When a branch is pruned, it is in nature to produce many branches in place of the one pruned branch. If not for pruning, there would have been only one branch. Pruning makes the branch productive and fruitful. The word of God takes me to my childhood experience which I narrated above. Can a nail that is pierced into a tree result in greater vitality and fruitfulness. It does not now seem to be a mere superstitious belief. When I look back, I can vouch for the fact that every nail that pierced me resulted in flowering and fruition. It brought out the best in me. I thank God for those nails and hammers as well as for the for the sharpened shears that were slightly more gentle.
Every pain is a blessing in disguise. A time of suffering is not a time to lick the wounds but a time to gather fruits. Forgive me Lord, for the times, I failed to gather fruits! Ex 1:12 says, "But the more they (Israelites) were oppressed, the more they multiplied and spread, so that the Egyptians came to dread the Israelites". In Joseph of the Old Testament, we see the wounded but fruitful tree. He sees the hand of God in all that happened to him. Therefore he was able to tell his brothers, "And now do not be distressed, or angry with yourselves, because you sold me here; for God sent me before you to preserve life" (Gen 45:5). What a mature response to suffering!
Isn't it surprising that the Good thief did not pray to Jesus to relieve him of the pain or to take him down from the cross, but rather to grant him eternal life (cf. Lk 23:39-43). In the midst of sufferings, we should not be short-sighted. Our God is closest to us in times of suffering. There is a great wisdom in what St. James has to say, "My brothers and sisters, whenever you face trials of any kind, consider it nothing but joy, because you know that the testing of your faith produces endurance; and let endurance have its full effect, so that you may be mature and complete, lacking in nothing." (Jam 1:2-4) Look at St. Peter's advice – "Therefore, let those suffering in accordance with God's will entrust themselves to a faithful Creator, while continuing to do good" (1 Pet 4:19)
Lent is a time of pruning and Easter is a time to admire the new tender branches that have emerged from the wounds, an assurance of great fruits!